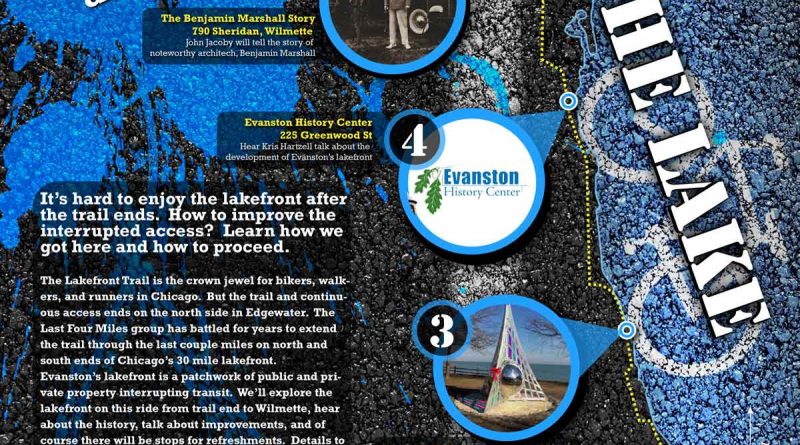 Even Cooler Along the Lake: Navigating the hidden lakefront and history tour
Even Cooler Along the Lake: Navigating the hidden lakefront and history tour
WHEN: September 14, 2019 @ 10:30 am
WHERE: Foster Beach House, 5200 N. Lake Shore Drive Chicago
COST: Free
Email: Bike Wilmette Email
Evanston Transportation Alliance, Bike Wilmette, and Friends of the Parks present "Even Cooler Along the Lake: Navigating the hidden lakefront and history tour." Join us for a leisurely bike ride on Saturday September 14th to promote the completion of the final two miles on the north end of Chicago's lakefront trail and ultimately connecting the trail to Evanston and Wilmette. Rain Date TBD.
Ride Highlights
We will gather at Foster Beach in Chicago at 10:30 A.M. and ride up to Wilmette. Riders should feel free to drop in our out at any point along the route. Highlights and stops along the ride include:
Short presentation by MWRD Commissioner Cam Davis
Lunch at the Waterfront Cafe in Berger Park
Award winning 15-minute documentary Lungs of the City co-produced by Loyola and Friends of the Parks featuring Blair Kamin
Learn about Gatsby-esque architect Benjamin Marshall from former Wilmette President John Jacoby, with stops at Marshall's Edgewater Beach Apartments and another stop at the gates to his former mansion in Wilmette where legendary parties were held
Evanston's Dawes House History Center presentation on the history of Evanston's lakefront development
Finish at Convito Cafe in Wilmette for drinks and snacks
Getting To and From
The ride will begin Saturday, September 14th at 10:30 A.M. at Foster Beach, 5200 N. Lake Shore Drive in Chicago. The beach is accessible on public transportation via the Berwyn stop on the CTA red line. There is a Divvy station to rent bicycles just off the Berwyn stop, one block to the west. Bicycles are allowed on the train.
The ride will complete about a five minute ride north of the Linden CTA red/purple line stop and about a five minute ride from the Wilmette Metra station. Divvy renters can return their bikes nearby at the Davis Street CTA station in Evanston.