Divvy for Everyone (D4E) – Evanston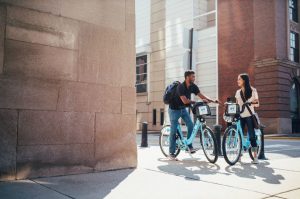 The City of Evanston aims to make the Divvy bike share program affordable and accessible for Evanstonians. The D4E Evanston program provides a $5 Annual Membership to qualifying residents on a continual basis, as so long as the program is in operation. The D4E Evanston program also incorporates a cash payment system for Evanstonians who do not have debit or credit card, required for a standard Divvy membership.
D4E Evanston Program Features
One-time $5 Annual Membership
In-person enrollment at the Evanston General Assistance Office and Parks, Recreation and Community Service facilities
No credit card required
Cash payment option for any usage fees incurred at participating 7-Eleven and Family Dollar stores
Read more here.